Cloud Cuckoo Land
A downloadable game for Windows, macOS, Linux, and Android
Cloud Cuckoo Land
This is an adult, gay visual novel. If you are a minor, this game is not for you. It contains explicitly pornographic content that is not suitable for minors. There will be no censored version as the graphic and sexual content is intrinsic to the story.
SYNOPSIS:
You have a very powerful imagination and a lazy disposition. The unfortunate combination resulted in excessive daydreaming for most of your adult life which ruined your relationships with those around you. One desperate decision landed you in minimum security prison. Your only hope at a turnaround is to sail through it as smoothly as possible, avoiding any incident as much as you can manage. It should be easy to get an earlier release for good behavior. That was what you thought until a very strange encounter in prison threatens to upend everything from your beliefs to your sanity. Can you manage to stay upright and avoid being devoured by the haunting nightmares of prison?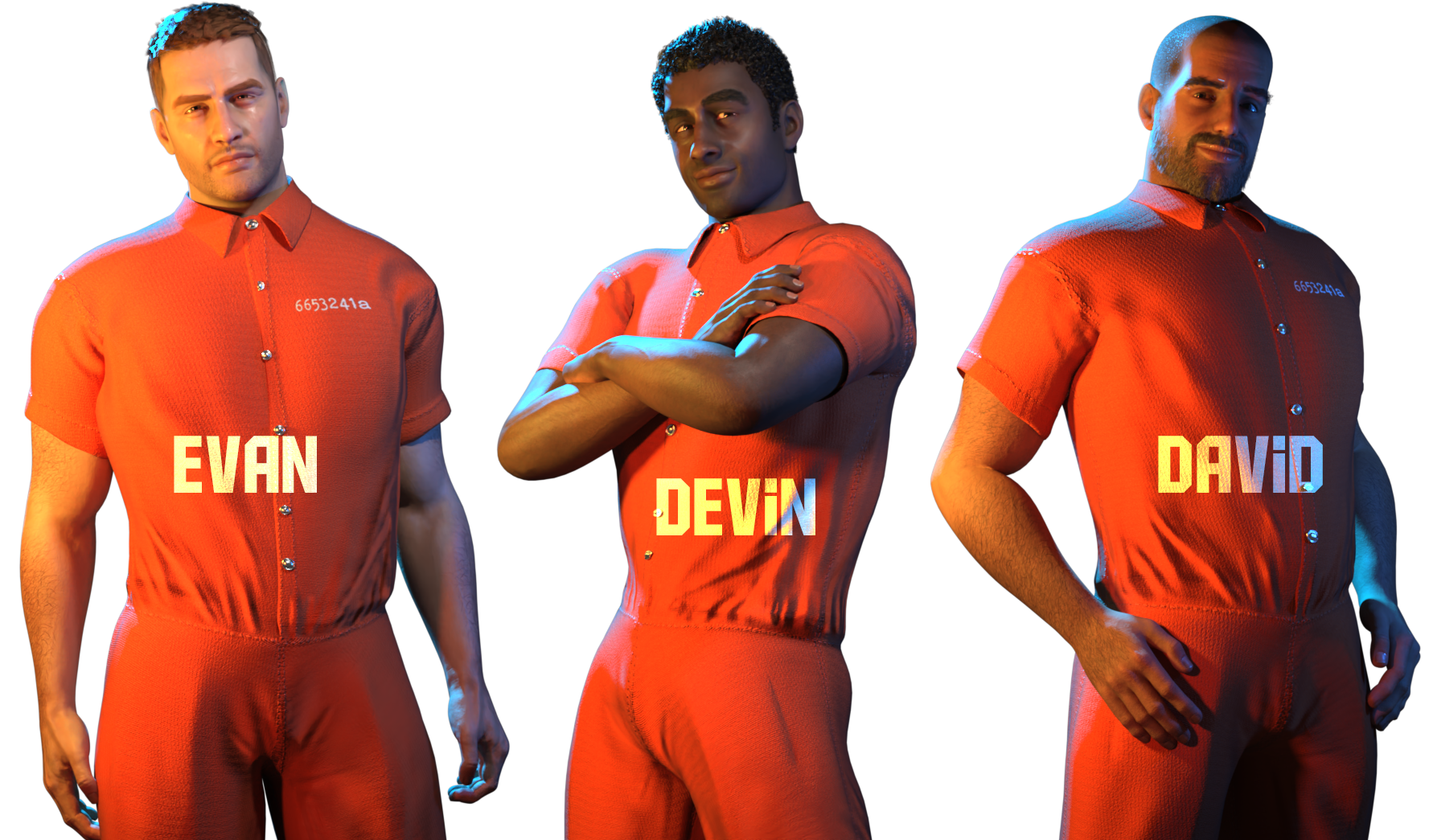 3 MC choices -
You choose from 3 different people to play as. Evan, Devin or David. Their stories start out the same way (In this release, they're practically identical). But they have different histories which will be explored more down the road, eventually leading to different paths and different ending CGs. For now, that is very minimal as this chapter is mainly an introduction to the story and some of the characters.


Some discussion on this release (version 1.0 ):
This release serves as a brief introduction to the story and involves about half of the characters. There might be a lot of hiccups on your playthrough, if you find some, please let me know. You might see model-related issues especially on the clothes. As I was building this chapter, I was slowly replacing all the clothing assets I have used from a previous project(see guards clothes in the beginning vs at the end). Expect to see this improved gradually especially on inmate clothes that clip so easily around the collar.

This initial chapter is quite kinetic - meaning you mostly read and follow along instead of making choices every other dialogue. The amount of choices you will have to make will ramp up in subsequent chapters as I begin introducing alternate routes and differentiating the Main Characters.


This game is available for FREE. But your donations will help me keep it going. If you do decide to help out, I suggest subscribing to my Patreon page so I can give you a few perks in exchange, more details on that in my page:
Available for PC, Linux, Mac and Android

A new character gallery is now up for v1.1
See how it works below:

Unlock sprites as you meet characters in the story
Unlock alternative sprites when you meet different appearances for each character
Each sprite opens a gallery for that character where you can access the Image Gallery, Replay Gallery and other snippets of information about the character.
Notes for V1.1
It is important that you start a new game. There are loads of changes behind the scenes that would make old saves incompatible. For instance, a lot of new things are being tracked now that weren't in the previous version. This means it will have no information on those and will not work properly. The new gallery screen is a big example. It tracks met characters and scenes shown.
I'm planning better in advance now to minimize the need to start a new game in the future but for now, it is required that you start fresh.

| | |
| --- | --- |
| Status | In development |
| Platforms | Windows, macOS, Linux, Android |
| Rating | |
| Author | cloudcuckooland |
| Genre | Visual Novel |
| Made with | Blender, Adobe Photoshop, Ren'Py |
| Tags | Adult, Bara, Erotic, Fantasy, Gay, Male protagonist, Romance, Singleplayer, supernatural |
| Links | Patreon, Twitter |
Download
Click download now to get access to the following files:
CloudCuckooLand-v1.1b-mac.zip
576 MB
CloudCuckooLand-v1.1b-pc.zip
591 MB
com.cloudcuckooland-1.1brelease.apk
602 MB